Twitter intègre la publicité native à Moments
octobre 28, 2015
A peine 15 jours après avoir lancé Moments aux Etats-Unis, avec à bord de grands éditeurs comme The New York Times, The Washington Post et Vogue, Twitter propose désormais en phase test une manière de les rentabiliser avec des Promoted Moments. La première expérience a eu lieu dimanche dernier.
« Les Promoted Moments ressembleront à tous les autres Moments, sauf qu'ils seront écrits par une marque et qu'ils paraîtront dans le guide de Moments pendant 24 heures, avec un badge [l'identifiant en tant que contenu sponsorisé] » explique Bobby Grasberger, responsable de stratégie de marque à Twitter (ici).
De la publicité native donc, très bien mise en valeur, avec possibilité d'y intégrer image et vidéo. À en croire les déclarations de Matt Derella, vice-président de revenus pour les Etats-Unis de Twitter, à Bloomberg (ici), leur objectif est d'avoir un Promoted Moment différent chaque jour. Aucune information n'est donnée sur le coût de ces publicités.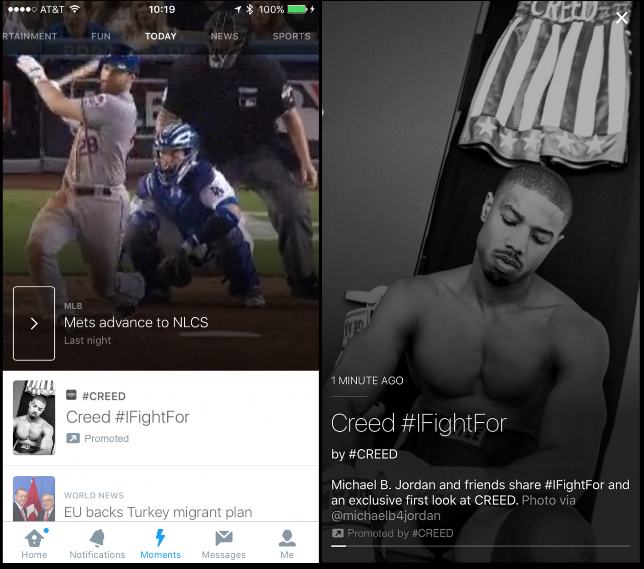 LUL
(Image: Twitter.)